Supporting collaborative efforts to transition from an extractive economy to a regenerative economy
The Just Transition PowerForce brings together environmental and climate justice leaders from across the country to align the climate commitments of corporations toward deep investments in the sustainability and climate resilience of frontline communities, enabling self-determination, economic security, and restorative and transformative justice. We collaborate in pursuit of a just transition from an extractive economy to a regenerative economy that shifts major sectors of the economy – energy, food, water, waste, infrastructure – to be green, healthy, economically just, and democratic.


The Just Transition PowerForce was launched by Emerald Cities Collaborative and the NAACP Environmental and Climate Justice Program in relationship with Microsoft Cloud Operations & Innovation (CO+I), the team responsible for Microsoft datacenter operations. The Just Transition PowerForce includes more than a dozen organizations leading the movement for a Just Transition in frontline communities across the United States and continues to be administered by Emerald Cities Collaborative.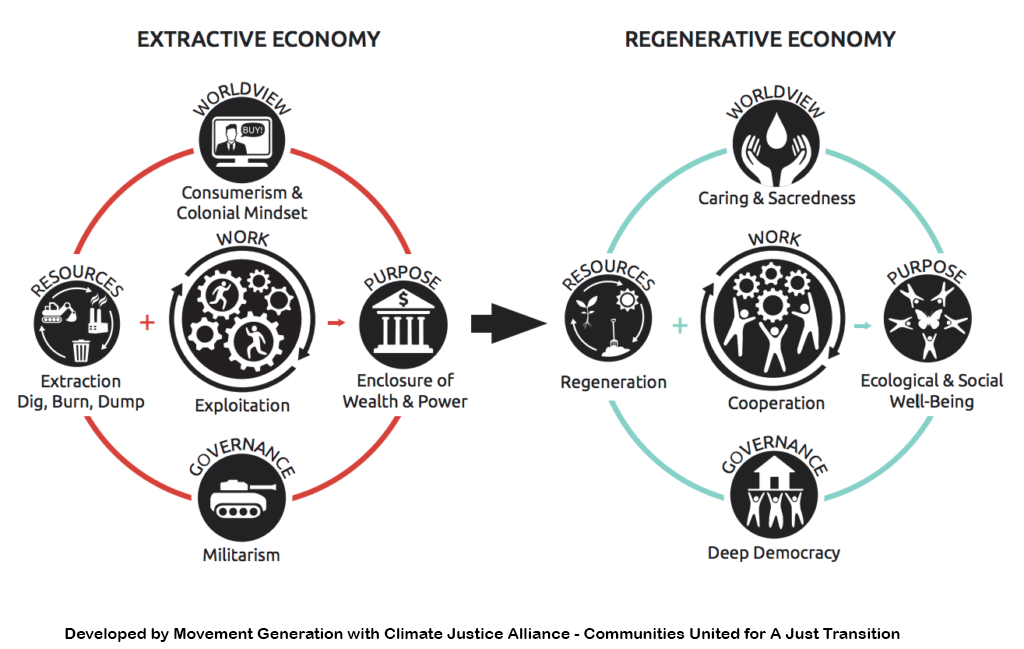 The Just Transition PowerForce recognizes this pivotal moment to ensure that corporate climate policies and investments do not replicate extractive and oppressive patterns and instead contribute to just transitions led by communities on the frontlines of the climate crisis.

The Just Transition PowerForce prioritizes deep relationship building, operates at the growing edges, and thrives on joy and humor. Though we do not have capacity to take on additional corporate co-conspirators at this time, we make our resources publicly available below and are building a model that we and others can replicate.

In the first half of 2022, the Just Transition PowerForce will pilot its first funding process for frontline communities and launch a training series about its framework for measurement and evaluation. All updates will be available on this page and to email subscribers.
Current Members of the PowerForce
As of October 2022
Felicia Davis, Director, HBCU Green Fund
Jessica Guadalupe Tovar, Environmental Justice and Clean Energy Advocate
Erika Symmonds, Clean Energy Workforce Development and Equity Advocate
Lynn Benander, President, Co-op Power
Aaron Johnson, Just Opportunity Manager, Partnership for Southern Equity
Andrea Marpillero-Colomina, Sustainable Communities Program Director, GreenLatinos
Sandra Henry, CEO, Slipstream
Naomi Davis, Founder/CEO, BIG! Blacks in Green
Jamil Bey, President & CEO, UrbanKind Institute
Pamela Brown-Eyo, Environmental and Climate Justice Chairperson, NAACP South Dade Branch, Miami FL
Charles Taylor, State Political Action Chair, Mississippi State Conference NAACP
NKwanda Jah, Director, Cultural Arts Coalition
Bruce Saito, Board Member, Corps Network
Marilyn Waite, Managing Director, Climate Finance Fund
Mandy Lee, Senior Program Manager, Emerald Cities Collaborative
Donna Hope, U-Hope Consulting
Daryl Wright, Chief Strategy Officer, Emerald Cities Collaborative
Denise Fairchild, President Emeritus, Emerald Cities Collaborative & ClimateBreakthrough 2021 Awardee
Meishka Mitchell, President & CEO, Emerald Cities Collaborative
Past Members and Other Supporters
Michelle Wiseman, Director of Waste Diversion & Outreach, City of Atlanta / Office of One Atlanta
Chandra Farley, CEO, ReSolve Consulting
Sonia Kikeri, National Director of Policy and Civic Engagement, Emerald Cities Collaborative
Jacqui Patterson, Founder and Executive Director at The Chisholm Legacy Project: A Resource Hub for Black Frontline Climate Justice Leadership
Wahleah Johns, Co-founder, Native Renewables
Kyra Woods, Policy Advisor, City of Chicago
Anthony Giancatarino, Director, Just Community Energy Transitions 
Denise Abdul-Rahman, Great Lakes and Ohio Valley Special Project Manager, The Chisholm Legacy Project
Cicely Garrett, Interim Just Energy Director, Partnership for Southern Equity
Jenny Carney, Vice President of Sustainability, Energy and Climate Change, WSP USA
Danielle Decatur, Director of Datacenter Sustainability, Microsoft
People's Climate Innovation Center
Bonnie Lei, Head of Environmental Justice, Employee Engagement, and Ecosystems, Microsoft
Please use the form below to request more information or receive access to additional materials.
"Just Transition is a principle, a process and a practice."
At this time, the Just Transition PowerForce does not support participation in non-renumerated opportunities from private sector organizations. We do not wish to perpetuate exploitative practices and have found this to be a recurring theme within corporate practice. Please be mindful in requesting our time, energy, and labor. Note that we operate by consensus and may be unable to respond to your inquiry.


We welcome all conversations with frontline community groups seeking to learn about our efforts. To receive email updates about funding, membership, new resources, and other opportunities, or to ask us any questions about the Just Transition PowerForce, please use the inquiry form below. We ask that you reach out to us using this form rather than contacting PowerForce staff or members individually.