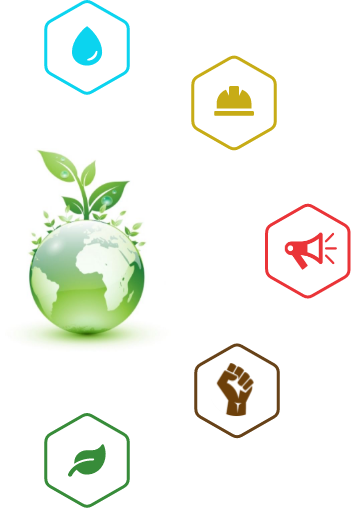 ECC has proven that multi-stakeholder, intersectional models work
Perhaps your goal is to create more opportunities for underrepresented contractors, workers and youth to participate in sustainable development projects. Or maybe you seek to engage anchor institutions in local climate resilience efforts. Or you might need help building an inclusive local corps of environmental/climate/economic justice advocates. ECC offers programs that can help guide your community along the high road to a sustainable, just future.
What do we mean by High Road?
High-road development involves a family of strategies for human development under competitive market conditions that treat shared prosperity, environmental sustainability, and efficient democracy as necessary complements, not tragic tradeoffs. ECC continues to empower America by using the high-road model in greening our cities, building our economy, and strengthening our democracy. Go here to learn more about the high road.

ECC takes a comprehensive, high-road approach to helping communities develop and implement cost-saving clean energy solutions. Our work includes policy and project development to save money and energy, while improving the health of the planet and people — particularly in low- and moderate-income communities.


Food is every society's "first economy." Our work includes policy and project development to leverage the assets and capacities of large, place-based institutions — anchors such as hospitals, universities and local governments — to improve the health, local economies and climate resilience of low-income communities of color.

ECC works with community organizations, government, the private sector, and directly with small, minority and women-owned firms to ensure that BIPOC and other underrepresented businesses/contractors benefit from major investments in clean energy. In addition to planning and technical assistance to improve public procurement systems, ECC offers training, coaching and support services so that these firms are committed to ECC's high-road mission to strengthen the environment, economy and equity, especially within low-income communities of color.

Community
Climate Resilience

Communities can withstand or rebound from climate disruption when they have access to regional, community-owned networks for critical needs. Climate-resilient communities also have economic independence, strong social capital and effective physical infrastructure. ECC works with communities to build and fortify climate-resilient economic systems.
Participatory Democracy
& Climate Justice

Strong economies are democratic and inclusive of all populations that are impacted by public and private investment and policy decisions. Sadly, not all local economies function this way. ECC develops multi-stakeholder coalitions to advance a high-road agenda that is inclusive, accountable and equitable. Our programs are committed to building a new generation of community change agents and organizers who are prepared to advocate for environmental, climate and economic justice.